GAMP 5 Validation
The pharmaceutical industry is heavily regulated and the MHRA in the UK, and the FDA in the US, licence drugs only if they meet stringent safety, quality and efficacy standards. These range from EU guides and annexes to Good Manufacturing Practice (GMP), Good Clinical Practice (GCP) and Good Laboratory Practice (GLP) to FDA codes of federal regulations, such as the 1997 "21 CFR Part 11 Electronic Records; Electronic Signatures" ruling.
The MHRA and the FDA ensure drugs meet these standards through a process of regulation and enforcement. They have a number of powers to protect public health, ranging from working with the manufacturer of the product, through to legal remedies.
Validation, therefore, has to be conducted to a standard that meets or exceeds those demanded by these agencies.
The US Food and Drug Administration (FDA) defines validation as:
"Establishing documented evidence which provides a high degree of assurance that a specific process will consistently produce a product meeting its pre-determined specifications and quality attributes."
GAMP Standard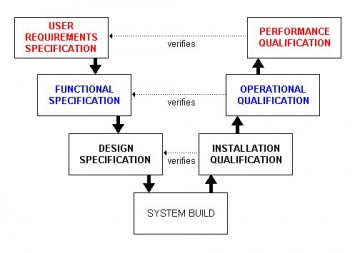 Validating computer systems to the GAMP standard satisfies this requirement.
Established in 1991 and continually updated since in order to meet FDA expectations for compliance of manufacturing and related systems, GAMP defines a validation lifecycle for computer systems.
The GAMP standard defines the documents to be written and the activities to be undertaken to validate a system. It also places the validation lifecycle within the constraints of the classic V-model set of documents.
GAMP 5

The latest Version 5 of the GAMP standard is "A Risk-Based Approach to Compliant GxP Computerized Systems".
CliniSafe develops all the programs to GAMP 5 guidelines.
As such, CliniSafe has undergone a structured life-cycle process of planning, specification, risk analysis, construction, test planning, verification and reporting.
CliniSafe is an internally written, bespoke system that can be classified as GAMP Category 5 (Custom Application). As such, every aspect of CliniSafe is tested, and High Risk aspects tested multiple times.
CliniSafe uses standard hardware components, so these fall within Hardware Category 1 (Standard Hardware Components).
The GAMP 5 validation of CliniSafe was completed in 2010 and CliniSafe has been rigorously maintained in validated state through extensive ongoing testing and Validation Reports.